Upcoming shows at New Slang
Hiya, we're not 100% when the club night will return, but we HAVE been announcing a few live shows to take place on Thursdays later on this year, including Sports Team, DMA'S and Sea Girls. If these gigs don't happen on the advertised dates, they WILL happen on a rearranged date for 2021

So do keep an eye on our socials. If you have tickets for to-be-rearranged-gigs, it helps us loads to hold on to your tickets until we know the new date. Get in touch after that. Don't miss out on announcements - turn on alerts from BanquetRecords on twitter, facebook and instagram.
September

The night before the release of their hugely anticipated debut full length record titled Deep Down Happy, the acclaimed indie-rockers Sports Team return to Kingston to headline New Slang.

Sports Team a band of six singular characters who have been variously described as one of the most raucous, electrifying and chaotic acts in the UK release their debut album Deep Down Happy. The highly anticipated record, is their first release on the legendary Island Records label. Sports Team came up on the back of word of mouth live hype, drawing round the block queues to chaotic early gigs at The Five Bells and Moth Club before releasing any music. Recording their first EP (Winter Nets) in a converted Timberyard in Hammersmith, the band have consistently set themselves apart from the acts they came up playing with, showing an intoxicating ambition, and their debut album Deep Down Happy, delivers on all bold claims, and confirm their place at the head of a group of young guitar acts.
October

Following the release of their highly anticipated third full length record titled The Glow, DMA'S return to Kingston to play at Pryzm, operating at a slightly reduced capacity.

'THE GLOW' finds DMA'S fulfilling their world class potential with a collection of songs that are destined for arenas. From their emotive heart to their towering, anthemic hooks, the core traits that have earned the band a growing global following are all in place. But with the help of Price, DMA'S have elevated both sides of their sonic spectrum to new heights.
November

Celebrating the release of their new full length album titled Open Up your Head, the awesome and anthemic indie-rockers Sea Girls visit Kingston to play at Pryzm.

With album Open Up Your Head, the band's songwriting has elevated, with frontman Henry Camamile stepping into the spotlight as a genuine storyteller for his generation. The album is fit to burst with colourful melodies, guitar and synth hooks - an explosion of joyous indie rock held together to reflect Camamile's darker songwriting on topics such as a previous traumatic head injury, the anxiety that ensued, and resulting adolescent vices.
Music Venue Trust
A huge congratulations and tahnk you toe Music Venue Trust for their campaign to support live music and save Grassroots venues across the UK . Find out more at Music Venue Trust and SaveOurVenues.co.uk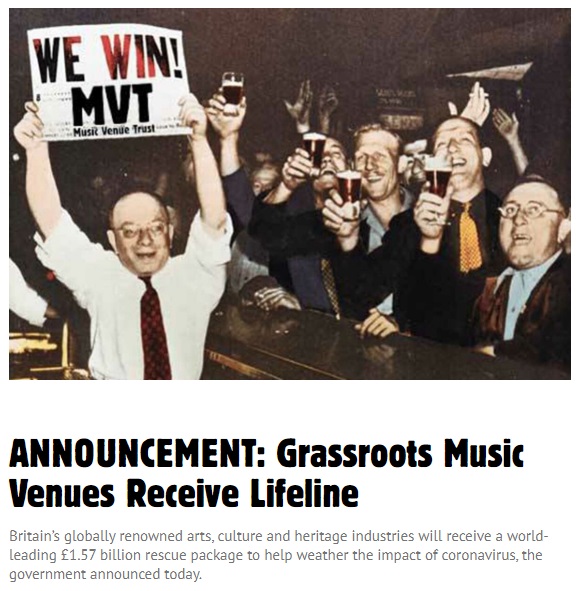 That's all for this mailout, don't miss the livestream events that have been happening and keep up to date with the mid-week news by following us on our socials: Facebook, @NewSlangClub on twitter and @NewSlangKingston on instagram. Thanks and stay safe.