a Good Friday for new music. Dry Cleaning, The Snuts, The Fratellis and Godspeed
a Good Friday for new music with new albums from Dry Cleaning, The Snuts, Godspeed and The Fratellis, as well as recent biggies from Ben Howard and Joe Strummer. As always there's loads coming in all the time, so keep checking the New In page.
SHOWS
Lockdown leaves everything in limbo, but lots of stuff still being announced which will happen at some point, even if not as originally planned. Don't miss out on announcements - turn on alerts from BanquetRecords on twitter, facebook and instagram.

To celebrate the release of their new album titled Half Drunk Under a Full Moon, The Fratellis link up for a streamed session followed by a Q&A on Zoom. This is a limited numbers event (/300).

"Some days you sit on the couch watching daytime TV and along comes a song like Six Days In June to remind you that you're still alive!" - Jon Fratelli

'Half Drunk Under The Full Moon' follows their critically acclaimed album 'In Your Own Sweet Time', their first top 5 UK album in 10 years, and this new album very much continues on this upward trajectory and is likely to become a signature moment in the band's career.
| | |
| --- | --- |
| | |

The Fratellis are giving all profits from these ticket/album sales to The Fratellis road crew. Everyone knows how much of a tough year it's been for people in the live music industry, so know that when you're buying the combos you're not only getting the album, but you're keeping people in their careers too!

To celebrate the release of their new album, The Fratellis return to Kingston to play a career-spanning set at Pryzm.
| | |
| --- | --- |
| | |

To celebrate the release of their new album titled New Long Leg, Dry Cleaning visit Kingston to play at Pryzm.

New Long Leg is more ambitious and complex, with Shaw's spoken vocals tightly intertwined with the band's restless instrumentals. With lyrics preoccupied by themes like dissociation, escapism, daydreaming, complicated feelings of love, anger, revenge, anxiety, the kitchen, lethargy, forgetfulness, and survival, Shaw says, "the title is ambiguous; a new long leg could be an expensive present or a growth or a table repair."

Dry Cleaning was formed by friends Tom Dowse, Nick Buxton and Lewis Maynard after a karaoke party in 2017 inspired a collaboration. They wrote instrumentally to begin with until six months later Florence Shaw, a visual artist, university lecturer and picture researcher by day – with no prior musical experience – turned up to a band rehearsal armed with reams of her own collected writing and a copy of Michael Bernard Loggins' Fears Of Your Life to read out over the music. Before long she was the group's frontperson, contributing words of her own, and serving as the perfect foil to the band's music.
| | |
| --- | --- |
| | |

Celebrating the release of their new album titled W.L. The Snuts visit Kingston to play a special 'Unplugged with Strings' styled set at Pryzm.

After a ferocious start to 2020, which saw the band land a top 15 album chart position with their debut Mixtape EP, a #1 spot on the UK vinyl chart, #1 in the Scottish album charts, an appearance and sync in a UK-wide multimillion pound Strongbow ad campaign, FIFA21 soundtrack sync and over 30 million streams, The Snuts have announced their raucous, hook laden debut album, W.L. – out 19th March on Parlophone Records.

Hailing from Whitburn, West Lothian, The Snuts have well and truly found their stride on W.L.. Produced by Tony Hoffer (Beck, Phoenix, M83) and recorded at the Firepit London, the album encapsulates the band's journey from four working class kids growing up with a dream in Whitburn, to becoming one of the UK's most exciting and vital bands of the new decade. The album opens with the poignant 'Top Deck', winding through a voyage of genres including the raw, rousing, hip-hop driven 'Elephants, heart-wrenchingly honest 'Boardwalk', the undeniable pop banger 'Somebody Loves You', the hauntingly heartfelt anthem 'Always' and the main stage festival ready hymn, 'All Your Friends'.

Adored up and down the country for their uninhibited, sweat-drenched live shows, the band have also announced a UK tour for May/June 2021 – totalling over 25,000 tickets, including a dream show at Glasgow's Barrowlands on 11th June (and 3 more Barrowlands held for the anticipated extra demand!)
| | |
| --- | --- |
| | |
NEXT WEEK
1 YEAR ON FROM COVID
We promised not to lay anyone off during Covid, and we kept to that commitment.

Our full time sound engineer is still in mailorder a year on - video.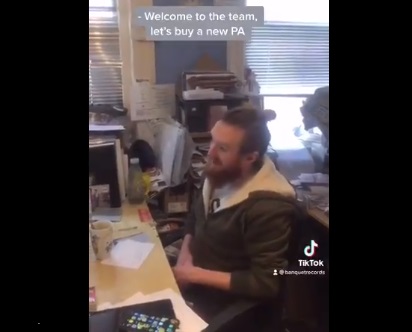 BACK IN STOCK
That's it for this week. As always, keep an eye / follow us on our socials for mid-week news and updates: Twitter | Instagram | Facebook.

Thanks, and take care.