National Album Day releases galore + new Future Islands, FOALS remixes, Linkin Park anniversary boxset
The gorgeous FOALS triple-coloured-vinyl remix set is with us this week, along with the new one from Future Islands, plus a bunch of brilliantly curated 80's reissues for National Album Day, which takes place on Sunday. Some RSD20 gems are still available, with some highlights at BanquetRecords.com/RSD20

There's our socially distanced shows with Everything Everything, and more on the horizon, plus another bunch of great shows announced for next year. Keep an eye on the Events Page.
NATIONAL ALBUM DAY 2020
Celebrating the album as an art form and encouraging us to listen from start to finish, National Album Day takes place on Sunday 11th October. 2020's theme is "The 80s", and there's a bunch of brilliantly curated reissues from that decade to mark the occasion.
THE WHO 'LIVE AT KINGSTON'
An aural document of one of the greatest events we've ever put on, a recording of our Valentine's Day show from THE WHO is being released. Part of the deluxe reissue of their latest album 'WHO', Live At Kingston is out later this month on CD, and as part of a 7" boxset in December.
EVENTS
Regular gigs still look a while away, but are being announced - Bicep will be visiting Kingston next year! Some other cracking shows about to be announced, too.

In the meantime we're running socially distanced gigs with Everything Everything, The Hunna and The Cribs, plus loads of live streamed events. Some events, like Sea Girls, Skepta, Neck Deep, DMA's have been rescheduled. If you have tickets for to-be-rearranged-gigs, it helps us loads if you hold on to your tickets until we know the new date. Get in touch after that. Don't miss out on announcements - turn on alerts from BanquetRecords on twitter, facebook and instagram.

Check out this video on our twitter to see how our first socially distanced gig, with Bloxx, went down!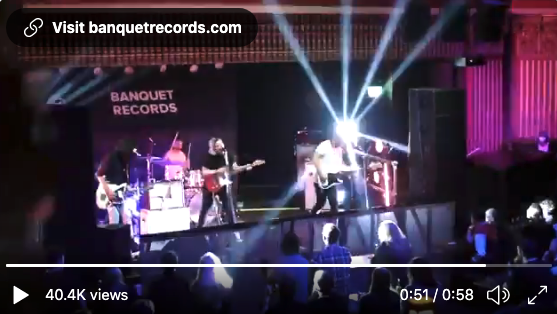 JUST ANNOUNCED
Celebrating the release of their new album titled Isles, Northern Irish house / electronic producers Bicep visit Kingston for a midnight DJ set at New Slang. We're super excited to hear what's in store, having followed their upward trajectory over the last decade, both on the dance floor and selling their various label 12"s over the years too.

Celebrating the release of their new album titled Night Network, the classic and inimitable trio The Cribs return to Kingston for two socially distanced shows at Pryzm.

Night Network is as fresh, cathartic and vital as anything they've ever put out. There's no weariness, no bitterness, just a clear desire to get back to doing what they do best – that unique blend of bittersweet melody, brutal lyrical honesty and riffs for days.
That's it for this week. As always, keep an eye / follow us on our socials for mid-week news and updates: Twitter | Instagram | Facebook.

Thanks, and take care.