T-shirt Weather in Kingston
As T-shirt weather arrives, we've got lots or merch re-stocked with more being added. Don't miss the Dinked Edition of the new album from Jesca Hoop, plus albums and shows this week from BABii and Lighthouse Family. Other shows this week range from Will Young to Can't Swim. Turn on alerts from @BanquetRecords on twitter, facebook and instagram.
T-shirts
We've got a big range of merch re-stocked with more on the way, check out an ever-growing list here.
Shows
We're on a bit of a Summer Holiday at New Slang, but some huge shows to be announced soon. In the meantime, there's no shortage of gigs, with six events in the coming week from Will Young to Can't Swim.
Kingston Samaritans
We popped over to Samaritans in Kingston to hand over the cash raised from the Frank Carter and The Rattlesnakes banner and hear a little more about what they do, watch the video here.

More info at Samaritans.org.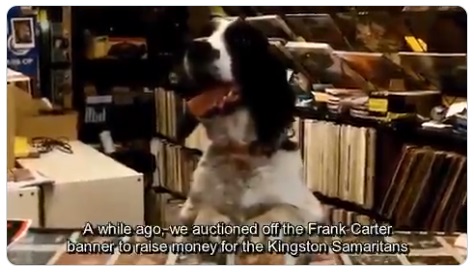 That's all for this mailout, make sure to follow us on our socials for mid-week news: Twitter, Instagram and Facebook. There's always a great range of limited and exclusive Pre-orders coming up, don't miss your chance to grab the limited albums. Until next time.