We're back in the swing of things | new releases | big shows | some great pre-orders.
New releases
As we ease back into things, 2019's releases are coming through already with You Tell Me, The Cinematic Orchestra and The Orielles with new music and some great re-issues from Taking Back Sunday, The Offspring and Aretha Franklin.
Pre-orders
There is plenty of great records and reissues coming up including some Indies exclusives / Banquet exclusives. Here's a few we're excited for but check out more on our Pre-orders page.
Back to the shows!
After a few weeks away from the live shows, we're back on it now. You Tell Me's in-store was lovely and there's a run of shows announced including Blood Red Shoes, Rudimental and Busted.
Just announced
Just a couple of days before their new album is released, White Lies play at Pryzm.

We're super excited for the fifth full length album from the West-London trio, titled 'Five'. Expect more of their amazing, emotive and synthy indie-rock tunes with post-punk influences whilst expanding into new territory. They've been in Kingston before, the last time was in 2016 but the first time was a whole decade ago when they played in the shop, we can't wait to celebrate this milestone with the band.

"The writing and recording process took in both sides of the Atlantic, including a creative sojourn to Los Angeles where they worked on new material with old acquaintance Ed Buller - producer of two previous White Lies albums."
| | |
| --- | --- |
| | |

Just after the release of their new album, Busted play a stripped back set at New Slang.

The band was last in town at New Slang for the release of Night Driver, they are now back to celebrate their fourth full length titled Half Way There. For the new album, they have taken a step towards the sounds of their roots, classic and infectious pop-punk influenced bangers with big, sing-along choruses.

Following the release of her new album, Maggie Rogers plays at Pryzm.

We're super excited for the debut Banquet visit from the critically acclaimed producer / songwriter, her major-label full length album titled Heard It In A Past Life is out just a few weeks before the show. Colourful and spellbinding mixes of folk and electro-pop. She wrapped up a giant tour supporting Mumford & Sons at the tail end of last year and is playing massive headline shows, don't miss her in this intimate setting.
Other upcoming events
Is this the end of owning music?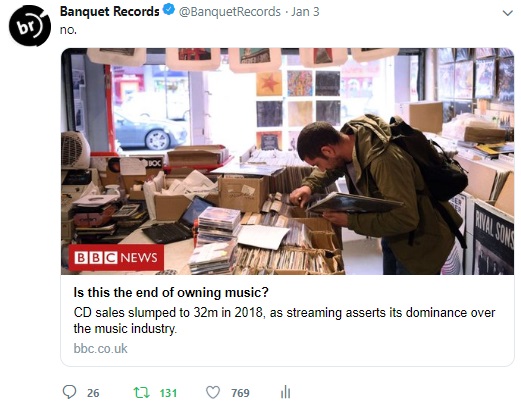 Over the Christmas holidays, there was lots of talking about HMV going into administration and the future of physical music. Our jt spoke with Hugh Woozencroft on BBC about the knock on effects to independent record shops. Listen to it here from around the 7:00 minute mark.

Tigers Jaw - Favorite (Animated music video)
- Heya, I'm Jez, I tend to write these mailouts as Banquet, but for this section I'm writing as myself. I recently made an animated music video for one of my favorite bands, Tigers Jaw. If you're a fan of emo/punk or animation then check it out on my twitter: @JezPennington. Thanks.
That's it for now, keep up to date in the week by following our socials: Twitter, Instagram and Facebook. There's a range of limited and exclusive Pre-orders coming up, don't miss your chance to grab the limited albums. Thanks.