Sonic Boom Six
Notify me when this item is released / available
This item hasn't been updated for over a year. We believe the item to be in stock, but that might not necessarily be the case.
If you need to know before ordering, contact us via
@BanquetRecords
on Twitter or send us an email
shop@banquetrecords.com
.
Expected 15th October

Sonic Boom Six are quite the genre defying band that mix punk-rap-reggae-electronica-metal-ska and everything inbetween. That, charged with political messages, boundless energy and enthusiasm makes for a great and varied record! The album was recorded and produced by Pete Miles in Devon who has also done work for bands like The King Blues, Futures, Crazy Arm, We Are The Ocean.

These guys have played many times for us and are always great so we're looking forwards to this!

http://www.facebook.com/sonicboomsix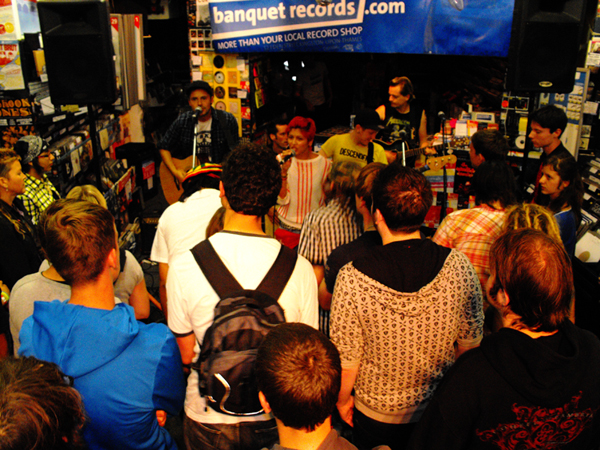 sonic boom six instore!
instore at Banquet on the day of release.
More Items From Sonic Boom Six
Customers Who Bought This Also Picked Up…
Sonic Boom Six
Sonic Boom Six
1.

For the Kids of the Multiculture

2.

Virus

3.

Karma is a Bitch

4.

S.O.S (State of Shock)

5.

Gary Got a Gun

6.

The High Cost of Living

7.

Who Will Survive (and What Will be Left of Them?)

8.

Keep on Believing

9.

Flatline

10.

Karma is a Lady
Cat no: XMRSB6
Label: Xtra Mile Recordings
Info correct on: 28/1/2013