Making Plans
Notify me when this item is released / available
This item hasn't been updated for over a year. We believe the item to be in stock, but that might not necessarily be the case.
If you need to know before ordering, contact us via
@BanquetRecords
on Twitter or send us an email
shop@banquetrecords.com
.
The previously only on pay-what-you-want MP3 and MP3 / art booklet now has a proper vinyl release. The release is limited to 250 (100 Blue with white splatter and 150 Blue). The vinyl is packaged in a black inner sleever. The cover has a 5mm spine so you can store the art book in the sleeve. You can order the booklet ONLY WHEN you also order the LP from us.
"Following on from the excellent response we had to Making Plans, both digitally and with the Art Book, we are excited to say we have been able to fund and self release it on vinyl. Limited to 250 coloured 12inch records, these are due to arrive with us in the first week of January. The expected postage date is around January 10th 2013 but we will keep you updated." - Mark from the band
12 songs of Lifetime meets Bouncing Souls punk rock with the emphasis on songwriting.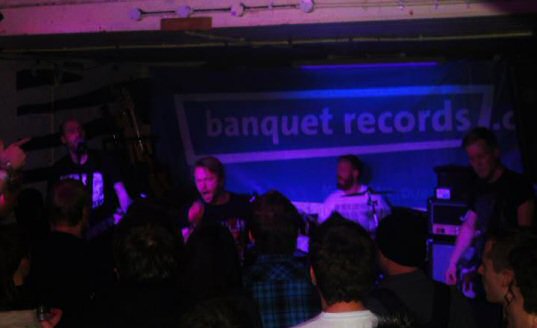 Pacer at the Cocks
Explainer? I hardly know her.
More Items Related To Pacer
Customers Who Bought This Also Picked Up…
Pacer
Making Plans
1.

Be A Man

2.

Flags

3.

Little Avalons

4.

When It's Over

5.

Flutters

6.

Roads

7.

Making Plans

8.

Sourpuss

9.

Ice Eater

10.

Red Shirts

11.

Everything's Fucked

12.

Explainer? I Hardly Know Her
Cat no: PMP
Info correct on: 10/1/2013