Bad (picture disc)
This item hasn't been updated for over a year. We believe the item to be in stock, but that might not necessarily be the case.
If you need to know before ordering, contact us via
@BanquetRecords
on Twitter or send us an email
shop@banquetrecords.com
.
25th Anniversary Edition picture disc of one of the most iconic albums (of all time?). Nine of the eleven songs on this album were released as singles, five of which hit the number one spot! This is a real little gem!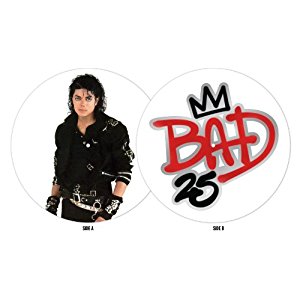 side A & side B
More Items From Michael JacksonSee all
Customers Who Bought This Also Picked Up…
Michael Jackson
Bad (picture disc)
1.

Bad

2.

The Way You Make Me Feel

3.

Speed Demon

4.

Liberian Girl

5.

Just Good Friends

6.

Another Part Of Me

7.

Man In The Mirror

8.

I Just Can't Stop Loving You

9.

Dirty Diana

10.

Smooth Criminal
Cat no: MJbad
Label: Sony
Info correct on: 8/9/2015