LSXX - Last Splash: 20th Anniversary Edition
This item hasn't been updated for over a year. We believe the item to be in stock, but that might not necessarily be the case.
If you need to know before ordering, contact us via
@BanquetRecords
on Twitter or send us an email
shop@banquetrecords.com
.
3 LPs, 4 10"s plus a 24-page booklet

'LSXX' is available as a deluxe seven disc vinyl box set. Many of the recordings included in the set have never been released before, or are rare / fanclub only gems. The release coincides with the Breeders' 'LSXX World Tour', which marks the first time Kim Deal, Kelley Deal, Josephine Wiggs and Jim Macpherson have performed together since 1994.
Cover and individual sleeve artwork has been created by renowned British graphic designer Vaughan Oliver, who described it as "an irreverent conceptual and visual re-imagining" of his original 'Last Splash' artwork.
The booklet features previously unpublished photographs taken during the recording of 'Last Splash', personal photos taken during two years of touring, and reminiscences written by band members and others, including Kim Gordon and J Mascis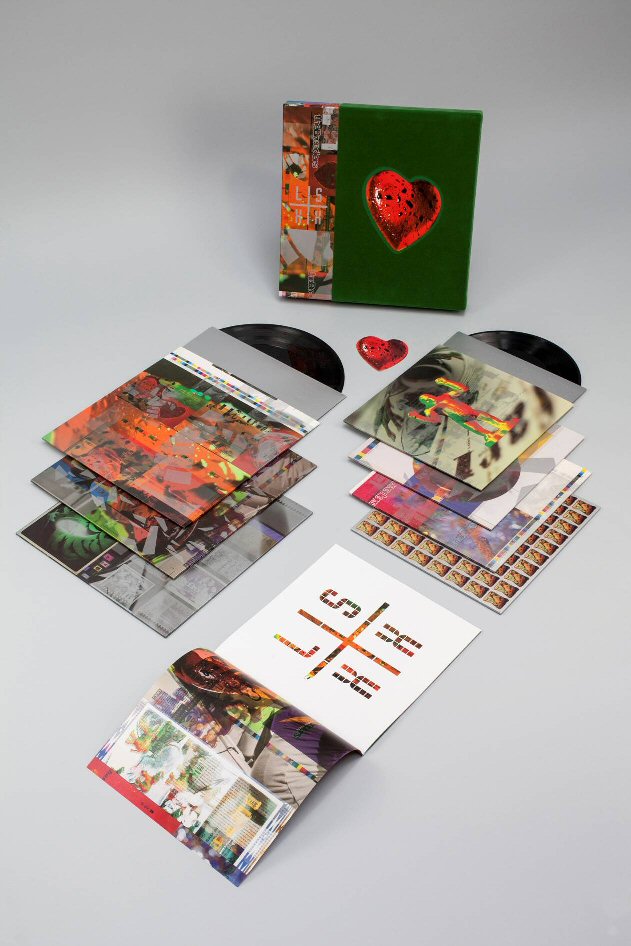 Sneak peek of what's inside
More Items Related To The Breeders
Customers Who Bought This Also Picked Up…
The Breeders
LSXX - Last Splash: 20th Anniversary Edition
1.

New Year

2.

Cannonball

3.

Invisible Man

4.

No Aloha

5.

Roi

6.

Do You Love Me Now?

7.

Flipside

8.

I Just Wanna Get Along

9.

Mad Lucas

10.

Divine Hammer

11.

S.O.S.

12.

Hag

13.

Saints

14.

Drivin' On 9

15.

Roi (reprise)

16.

New Year (demo)

17.

Grunggae

18.

Invisible Man (Demo)

19.

No Aloha (demo)

20.

I Just Wanna Get Along (demo)

21.

Mad Lucas (demo)

22.

S.O.S (demo)

23.

Saints (demo)

25.

Iris (Live at Glastonbury)

26.

No Aloha (BBC Session)

27.

Flipside (BBC Session)

28.

Divine Hammer (BBC Session)

29.

Hag (BBC Session)

30.

Shocker in Gloomtown (Live in Stockholm)

31.

New Year (Live in Stockholm)

32.

Hellbound (Live in Stockholm)

33.

Saints (Live in Stockholm)

34.

Hag (Live in Stockholm)

35.

I Just Wanna Get Along (Live in Stockholm)

36.

S.O.S. (Live in Stockholm)

37.

Roi (Live in Stockholm)

38.

Head to Toe (Live in Stockholm)

39.

Happiness Is a Warm Gun (Live in Stockholm)

40.

Cannonball (Live in Stockholm)

41.

Invisible Man (Live in Stockholm)

42.

Doe (Live in Stockholm)

43.

Drivin' on 9 (Live in Stockholm)

44.

Don't Call Home (Live in Stockholm)

45.

Limehouse (Live in Stockholm)

46.

Do You Love Me Now

47.

Don't Call Home

48.

Safari

49.

So Sad About Us

50.

Cro-Aloha

51.

Lord Of The Thighs

52.

900

53.

Divine Hammer (Single Version)

54.

Hoverin'

55.

I Can't Help It (If I'm Still In Love With You)

56.

Do You Love Me Now Jr?

57.

Head To Toe

58.

Shocker In Gloomtown

59.

Freed Pig

60.

Saints (Head To Toe Version)
Cat no: DAD3308
Label: 4AD
Info correct on: 30/8/2013